RECORD EXPUNGEMENT ATTORNEY - NEGIN YAMINI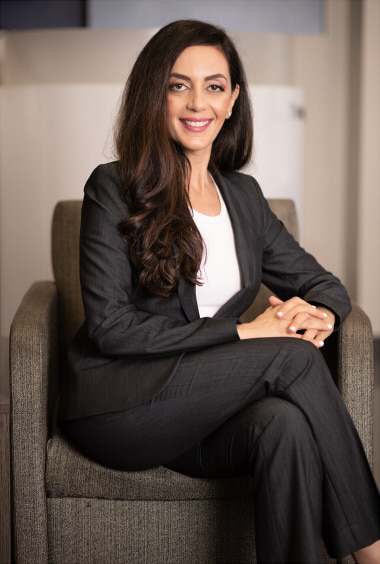 Negin Yamini is an experienced criminal defense attorney who defends the accused in all stages of a criminal proceeding, including post conviction.  Negin's post-conviction work includes early termination of probation, expungements, and sealing of arrest and juvenile records.   Conscientious, effective, and efficient, Negin will handle your expungement matter with utmost care and precision.  Negin is a Suma Cum Laude graduate of the University of California,  Los Angeles (UCLA), where she received multiple awards and recognitions (including the American Dream Fellowship), for her academic excellence and community involvements.  Negin obtained her law degree from Hastings College of the Law, where she was recognized as a Tony Patino Fellow her outstanding academic performance and commitment to excellence in the legal field.
EXPERIENCE MATTERS
Our attorneys understand that each case is unique, and will spend the time that's necessary to truly understand our clients' situations.  By getting to know our clients on a more personal level, we are able to form the strongest possible arguments when presenting their cases to the court.  This is what allows us to have such a high success rate, even on cases where our clients are still on probation.  Don't settle for an attorney who doesn't have expungement and record clearing experience; have your case handled properly the first time.    
FIRST RATE CUSTOMER SERVICE
We believe that open and honest communication is necessary to provide the best possible representation.  As such, we make sure that our attorneys are readily available.  Our clients will be given the personal cell phone number, and email address, of the attorney assigned to their case.  Because we handle our cases on a flat fee basis, you will never be billed for communicating with your attorney.  In fact, we encourage our clients to contact us via text or email as new questions, or developments arise.  Our clients are also give 24/7 access to their file via our secure case management software.  By logging into your client portal, you will be able to see the work being done on your case from the convenience of your home computer.   
COMPETITIVE RATES – NO HIDDEN FEES
At the Record Expungement Attorney Law Firm, we pride ourselves on being completely upfront with our clients.  After providing a free initial consultation, we will determine a flat fee price to handle their case.  We never include any hidden fees, or surprises in our fee agreements.  Once we determine we can help you, you will know exactly what it will cost for us to handle your case.    
CONTACT OUR OFFICE TODAY
Contact the Record Expungement Attorney Law Firm today to set up your free consultation.  Don't let your criminal record hold you back any longer.  Our experienced attorneys can help clear your record, and give you the fresh start you have been waiting for.  Call 424-835-9505 today.